Western Green has developed this unique solution to evolve treatment of sediment-laden flows, quickly and cost-effectively
replacing more traditional technologies for perimeter control, slope interruption, ditch checks, and more.
The patented WattleFence technology combines proven performance with shipping, installation, and removal advantages. Made in the USA using a fleece of coconut fiber reinforced with a woven fabric folded longitudinally to form a thick, multilayer product. The result, at 9 inches tall, is significantly shallower than traditional silt fence while providing equivalent performance. A 6 inch splash apron extends on the upstream side, further securing the WattleFence and preventing scour while removing the need for trenching. Once on site, WattleFence forms an L-shape with vertical stakes at the fence and staples securing the apron. At project closeout, this 99% biodegradable solution may be left on site, reducing costs through eliminating mobilization, labor, and disposal.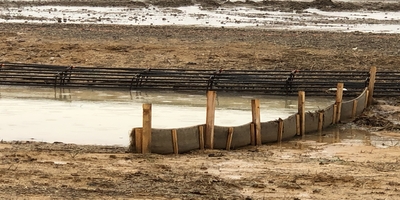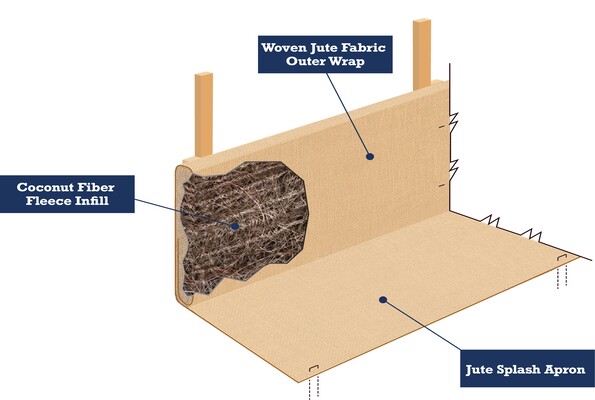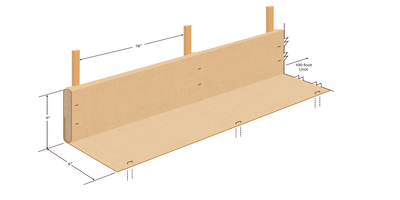 Why WattleFence?
The overall efficiency and performance of the product provides a unique tool to simplify the process of sediment control.
• Unique value in shipping and storage – add a few thousand feet to a near-full truckload of blankets. Keep miles of product in the same space 500 feet worth of wattles requires.
• Unique value in installation – no trenching, leave-behind biodegradability. Stake configuration with flexible arrangement.
• Easy step-over height for field work.
• Two-stage filtration, performance at first flush and high flow.
• Stable height dimension avoids inspection violation.
• Easy repair with zip ties and traditional wood stakes.
Product Literature