Installation Products and Tools
Choosing the right solution is half the battle against costly erosion. The other half is proper installation. We provide all the tools and instructions you need for quick, effective erosion control product installation tailored to your site.
North American Green carries a wide range of fasteners including: Wire U-shaped, Round top, and V-Top staples, rebar staples, environmentally-friendly biodegradable plastic stakes and our wooden Eco-stakes.
North American Green is a to offer Falcon Anchoring Systems. Falcon Percussion Driven Anchors (PDAs) and Twist Pins increase the veneer's mechanical strength by reaching deep into the soil strata for enhanced anchoring in the worst conditions.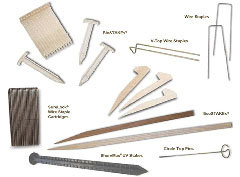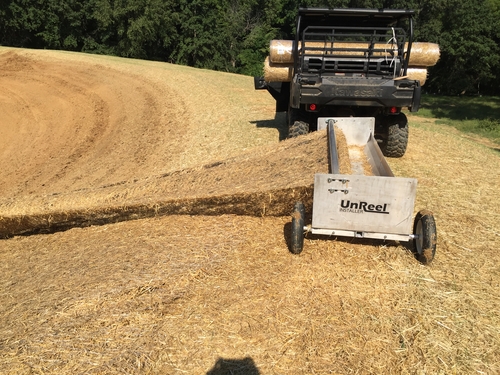 Installing rolled erosion control products (RECPs) while straightforward, can be a slow process when installed by hand. Add in steep slopes and long reaches, and the process can also become a safety issue for the crew. That is where the UnReel Installer can help. The light-weight, easily portable implement can assist installation of rolled erosion control blankets in a fast and safe method up to twice as fast as traditional hand-rolling installation.
The patent-pending UnReel Installer is manufactured from light-weight aluminum and is available in an 8' and 16' model. UnReel Installer can be used with any type of RECP, from temporary straw to permanent turf mats and can fit lengths up to 225' in length. Once the RECP is placed in the UnReel Installer, dual-action roller bars allow for smooth and low tension unreeling of the matting, reducing product tears, installer strain, and prevents heavy rolls being moved up and down slopes by hand. Once a stretch is complete simply roll the UnReel installer to its next position and unreel the material fast and easy.
Product Literature